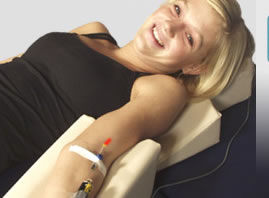 A MAJOR BREAK THROUGH IN LASER LIGHT THERAPY 
'Make laser treatments a mainstream alternative to surgery, demand experts, 'by JENNY HOPE AT THE DAILY MAIL 10th November 2009.
Laser light therapy was accomplished for the first time approximately 25 years ago in the former Soviet Union. Laser light therapy  is used throughout the world with 700 clinics in Europe under Dr. Webers guidance. There have been no reports of side effects.
Laser Therapy
Laser therapy is the term most commonly used to describe the therapeutic application of laser light at low intensity. In general, laser therapy is given at gentle, non-ionizing wavelengths within the red to near-infrared portion of the spectrum and at modest output powers below the threshold of heat damage to tissue.
An adverse reaction has never been documented in over fifty years of clinical and research use, perhaps because of the gentle  intensity and long wavelengths.   More than 5,000 studies and articles on Laser Light  have been published.
General benefits of Laser Light treatment :
Significant improvement in energy due ATP stimulation.
Better blood circulation and immune system.
Improved sleep and alertness.
Improves general mood.
Reduced need for medication.
Recommended by Dr. Weber for:
Depression, Chronic Fatigue and Tiredness, Diabetes, Chronic liver diseases, Fat metabolism disorders, Chronic pain, Rheumatoid arthritis, Chronic inflammatory intestinal diseases, Fibromyalgia, Hypertension, Tinnitus, Macular degeneration, MS, Burn-out syndrome, Allergies and eczema, Cholesterol problems, Cosmetic treatment. sports performance.
'Laser Light Therapy  is approved in the UK for treatment  with results as good as or even better than mainstream treatments which, avoids invasive surgery and the side effects associated with strong radiation and chemical therapies'
Roy Watkins is part of an international team providing this therapy.
Treatment is given in consultation with Dr. Weber and Dr. Giesan in Germany and Dr. Zulia Frost in Harley Street.
Roy Watkins has trained with Dr Weber, pioneer of the weber-needle system and assisted Dr. Geisen in Germany whilst treating patients.
Laser light therapy is a safe and effective treatment for all ages
'Therapeutic influence on nearly all diseases in medicine'
Dr. Weber